Untangled Ties The Knot…And Gets Slightly Delayed
Untangled Ties The Knot…And Gets Slightly Delayed
"Hi. I'm Carolyn. This is my husband, Philippe."
I still glance at Philippe and giggle when I say it. It's hard to believe that for ten days I have been his wife. On September 16, surrounded by our family and closest friends, we vowed to love, laugh, explore, and adventure together. For a few short days, we set aside the chaos and stress of boat projects to reconnect with people we hadn't seen in ages and savor autumn in Upstate NY. We did give a few nods to our upcoming journey, including the last song on our reception playlist – the hauntingly beautiful "To The Sea" by Jenny and Tyler.
By design, our weekend was filled with tiny, personalized details. I had a blast making each invitation by hand, wood burning driftwood escort cards to help guests find their tables, and using our custom rubber stamps to embellish cocktail napkins and envelopes filled with lavender buds. Everyone told me that the wedding weekend would fly by, but I was wildly unprepared for how true that was. I am so thankful for the exceptionally talented photographers, Amy and Guy Keech of Keech Photography, and videographers, Zach and Aja of Live Oak Films, who will need to remind me of all the details from our wedding day. Lucky for me, Amy has already sent a few sneak preview photographs and they are stunning.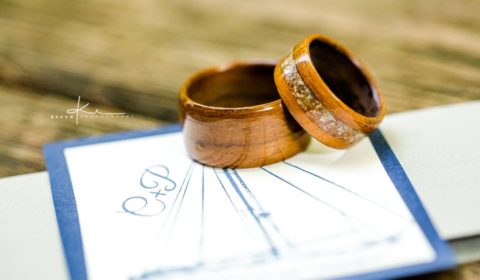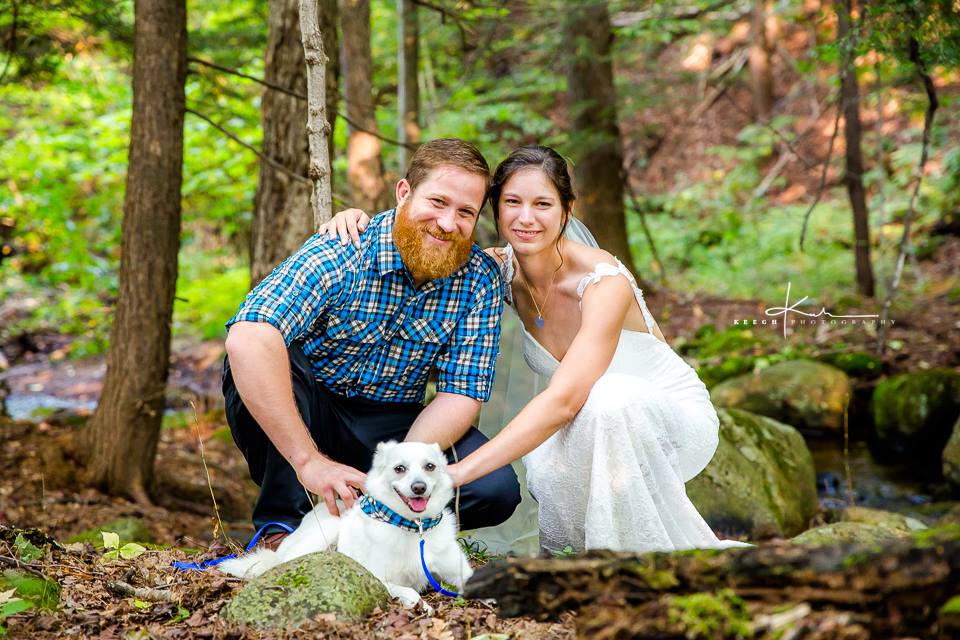 Alright, back to the boat. I started a post in August, which I intended to publish at the very beginning of September. It was titled "The Grumpiest Month", which could be considered sad or humorous, but is without a doubt very accurate. Between wedding and cruising preparations, we've both been a little on edge. We're typically very good at grounding each other – when one of us gets grumpy, the other jumps in with endless support and a positive spin. But August was tough. We were both grumpy. A lot.
September has been better. We still have a whole lot of post-wedding glow, and even though the stress of our impending departure still builds and occasionally boils over, we're making it a point to live by our vows – to be honest, to call each other out on our bullshit, to communicate fully and fearlessly, and to talk until we both feel like we are understood.
We have had a few very minor surprises with our exhaust system repair, and are currently delayed by just a few days. Instead of our initial plan, which was to cast off on September 30, we're likely leaving on October 5. Keith is here and has been a huge help (as always). Philippe is taking it all in stride. Kayley is standing by, ready to join us on our trip down the coast as soon as Untangled is ready. I'm taking some deep breaths. We're almost there.
August – September Projects & Progress (An incomplete list…)
Cut out bad chain segment in our anchor rode and added chain markers
Installed Mantus Anchor Mate to keep anchor off bow
Tested our new Rocna anchor at China Camp in the San Pablo Bay
Added a new latch to a pesky lazarette in the cockpit
Wired the new battery bank (4 golf cart batteries) into our system
Tested the existing hard solar panels **and ordered additional semi-flexible panels
Received our new-to-us mainsail (customized for Untangled by Pineapple Sails in Alameda)
Determined that there are actually 3 feet more water under the keel than the depth sounder reads (woohoo!)
Spent another sailing day working on man overboard drills and improving sail trim with our new main with Captain Jim Hancock
Removed all undersized exhaust system components (engine mainfold, mixer elbow, muffler, and hose) in preparation of new, well-matched, parts for our 56 HP
Removed old Furuno Radar and adapted mount for Garmin Fantom 18
Replace Aluminum propane tanks past certification date with new composite tanks
Designed NMEA 2k network & backbone layout for new instruments
Spare parts, spare parts, spare parts!