The Six-Month Review
The Six-Month Review
When Philippe and I married, we vowed to spend our lives together, for better or worse. When we cast off with Untangled's bow pointed south, we vowed to give it a solid effort for six-months, and abort if one of us wasn't enjoying it. We knew we would need an adjustment period, and we wanted to give the cruising lifestyle a fair shake before calling it quits. But we also didn't want to set exceptionally high goals that left one (or both) of us feeling trapped by a plan.
Without a doubt, cruising can bring a couple closer together. In Mexico, Philippe and I spend most of our time side-by-side. We problem solve. We try new foods and learn new things. We communicate constantly (sometimes in broken Spanish). We work as a team. We swim, we play, we laugh. But cruising can also be tough on a relationship. Most couples aren't used to being attached at the hip all day long. Communication can break down, especially during sailing mishaps or in tense situations. It can be hard to hear over wind and waves, and raised voices can be easily misinterpreted. Goals and desires can change. Without friends and family nearby, reliance on each other becomes absolute. It's not uncommon to find someone single-handing a boat because his or her partner was fed up and went home. Sometimes it's just a temporary separation until they can be reunited on land. Sometimes it's permanent.
Philippe and I are new to marriage. We're also new to cruising. We want both of these life experiences to make us happier, healthier, more connected people.
On Friday evening, we celebrated our six-month wedding anniversary. Time has flown by. We splurged on a fancy 5-course dinner at Tentaciónes, a hilltop restaurant with spectacular rooftop views of the anchorage. It was actually really nice to take a break from inexpensive (albeit delicious) Mexican food, sandy beaches, and Philippe's favorite pair of shorts (which just so happen to have a giant rip down the entire right thigh and a rip right under his left butt cheek). We spent the evening drinking San Francisco-priced cocktails, watching Untangled bob at anchor in front of us, reflecting on our journey so far, and envisioning what our post-cruising life might look like.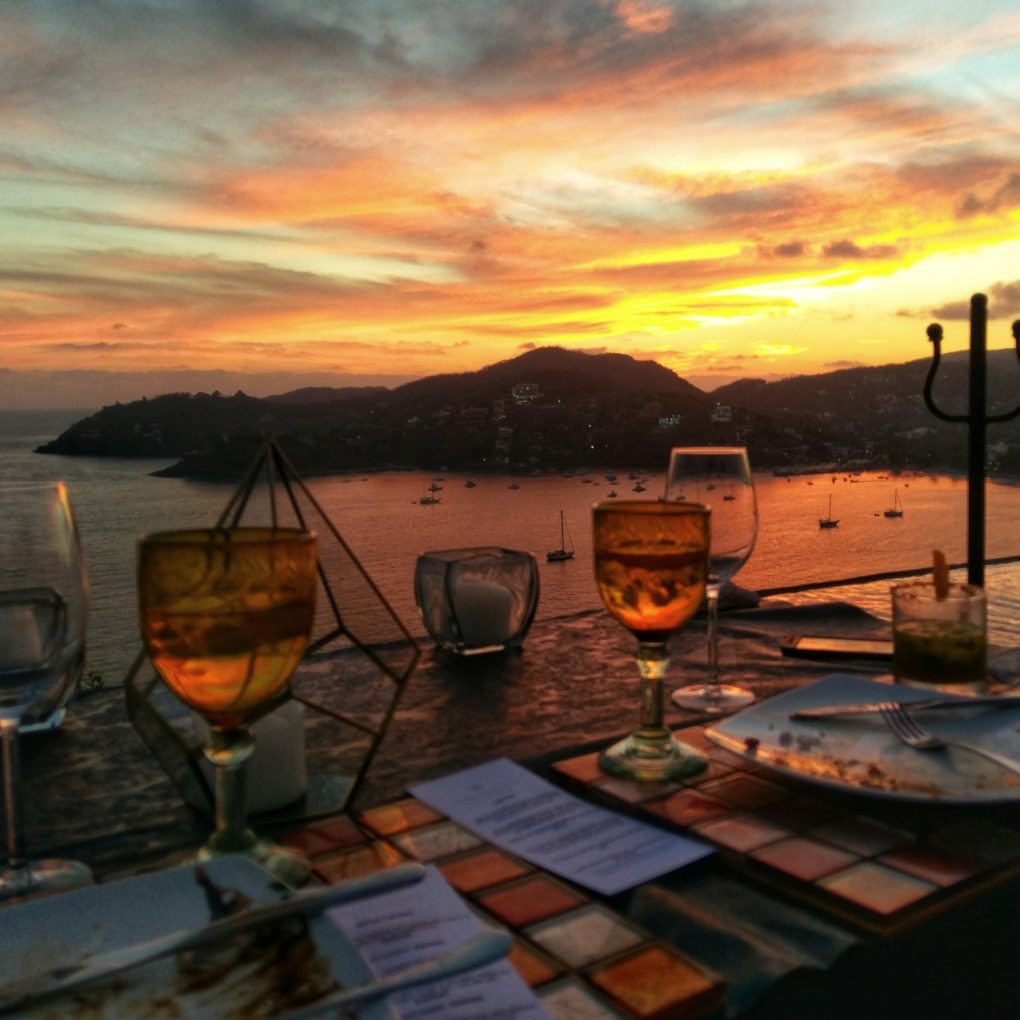 Our six-month wedding anniversary also means that we're just a couple weeks shy of six-months at sea. We've settled into the lifestyle, more or less. There will always be more to learn. I've been pleasantly surprised by how safe and welcomed I have felt here. People are generally very friendly, and it has been so much fun learning the language. Locals seem to appreciate the effort, and it helps us make more meaningful connections. Although working remotely has its ups and downs, it has been a really positive experience and I'm grateful to have a job I love and some structure for my days.
Philippe and I couldn't be happier to raise our glasses to our next chapter. We've made it to our six-month mark, and without hesitation have both decided we want to keep going. Untangled is Central America-bound, where we'll wait out hurricane season. We plan to stop in El Salvador to catch some of the El Salvador Sailboat Rally events, then make our way to Costa Rica. Plans are a little open-ended from there. Maybe we'll post up in Costa Rica for several months. Maybe we'll continue further south to Panama. Eventually, we'll take our time coming north again – this time stopping in Nicaragua and Guatemala.
Cheers to fair winds and following seas as we continue south!