The Cost of Cruising: March
The Cost of Cruising: March
When Philippe and I discussed cruising, we estimated that our costs would be about $20-30k per year. Once I decided to keep working, we knew that our costs would probably skew towards the upper edge of that boundary, if not slightly beyond. Among other things, keeping my job means more nights in marinas, extra hours at cafés, a higher cell phone bill, and additional fuel costs when we're trying to reach a new location within a weekend. It also, of course, means a salary and benefits, including health insurance.
When we started out, we talked about tracking our costs. It seemed like the prudent thing to do. I did some research, downloaded an app called Spendee, and started recording what we spent each day. In Mexico, we've been advised to always withdraw cash from ATMs at banks (that way, if your money doesn't slide out of the machine, there's a person who should be able to assist you and a company that should honor your transaction). Credit card fraud is a problem, so while we'll occasionally use our card at a marina where we're paying a big lump sum, we generally keep it tucked away. This means that we're tracking small transactions each and every day – 20 pesos here, 40 pesos there, 112 pesos for dinner – and so on and so forth. It can be tedious. After a few weeks, we gave up.
A little over a month ago I caught a new blog post from our friends aboard S/V Pineapple: "What it costs to cruise in Mexico: January 2018". Aha! They'd set out to do it and actually followed through! I loved reading the post and had a renewed sense of duty to track our own costs, at least for a couple months. I reopened Spendee and Philippe and I got to work. We tracked our costs starting on March 1.
March is actually an interesting month to start with, since it's an anomaly on our trip. As I mentioned previously, Philippe and I typically seek out marinas with Wi-Fi, which allows me to work comfortably from Untangled. The marina in Ixtapa is too shallow for Untangled (they don't accept boats with a draft greater than 7 feet, and we draw about 7.5). Zihuatanejo is also supposed to have some of the easiest anchoring in Mexico, with a big beach and dinghy attendants to help you land and launch your dinghy. So, for the first time in our trip, we opted to anchor.
In any case, here's the breakdown: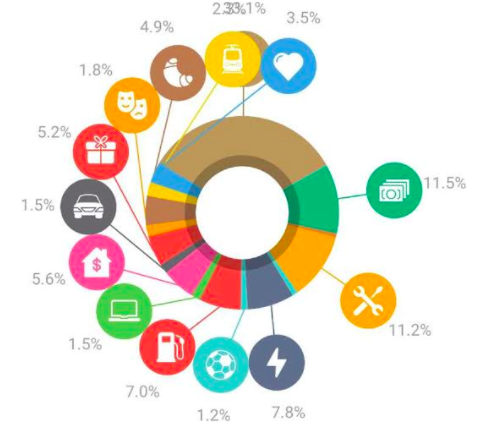 Five percent or more of our expenses were in the following categories:
Food & Beverage (33.1 %) – In theory, anchoring should be wildly cheaper than staying at a marina. In practice, it really just shifted our costs to this category. Food & Beverage totaled $1,026.72 USD and only included food and drink purchased at restaurants (no groceries). I tagged 88.4% of our costs ($344.44 USD) in this category as "workspaces", which means that the primary reason we were purchasing food there was so that Philippe and I could have access to WiFi. Not surprisingly, Philippe and I also had some meals that were simply for fun. We ate out more, for example, when our friends Steph and Andrew were in town, and we had a celebratory dinner for our 6-month anniversary.
Bills  (11.5%) – At $357.05 USD, this category includes amortized boat insurance, Netflix, our mailbox service, our Alameda storage unit, and the renewal of my driver's license. With the exception of my license renewal, these are all fixed monthly expenses.
Boat Maintenance & Parts (11.2%, $348.32 USD) – March was a preparatory month. We planned to do some longer passages, at least one of which  (the Tehuantepec) is known for potentially windy conditions. We spent $348.32 USD to have a small sail repair done, have a new inner forestay fitting machined, and have the bottom of the boat cleaned professionally.
Utilities (7.8%) – Ringing in at $242.31 USD, this category is all about the phones. I pay extra to have a lot of data that works both in the US and in Mexico, so that I can continue to do my job. Philippe uses a phone with a Mexican TelCel sim card, which he adds money to periodically.
Diesel (7%) – We filled up once for a total of $217.61 USD.
Marina Fees (5.6%) – One week at Marina Chahué in Huatulco ran us about $25 USD / night
Gifts (5.2%) – My niece's birthday, my step sister's baby shower, a few straggling Christmas gifts…
The other 18.4% fell into a variety of small categories. It included things like day passes at fitness centers, yoga classes, donations to good causes, dinghy landings in Zihua, new books, tips for bands and performers, and taxis. I'll note here that we did cut back on a lot of our standard costs from Alameda – no more doggie daycare, no more car insurance, no more commuting costs.
In total, we spent $3,099.36 USD in March. We hope that our costs for April are a little lower, since we'll cut out some of the boat maintenance fees and hopefully spend less money on food. We'll post at least one more month of finances, so keep an eye out for our April report early next month!