Patience is a virtue: 5 months to go!
Patience is a virtue: 5 months to go!
We kicked off April by attending the Pacific Sail and Power Boat Show in Richmond. I spent one full day in hour-long seminars, one full day taking Nigel Calder's "Marine Diesel Engines: Maintenance and Troubleshooting" class, and one full day chatting with vendors. Philippe (with his endless curiosity and attention to detail) doubled down on the vendor chatting days, took copious notes, and made some big decisions about gear. We walked away with a considerable amount of new gear, including an entire suite of Garmin electronics and a Viking RescYou 6-person liferaft.
The rest of the month has been filled with the beginnings of boat projects. As anyone who works on boat projects knows, everything takes longer and is more complicated than anticipated. This month felt like an exercise in patience as we started countless tasks, but only finished a small percentage of them. It does feel good to be making headway, though, and I think our progress is good.
Our excitement for the trip grows daily as we think about sunny beaches, delicious food, and the camaraderie that seems to go hand-in-hand with the Ha-Ha. At times, however, it can be easy to feel overwhelmed by the sheer volume of boat projects. We're working on finding a good balance between getting everything done, maintaining friendships, planning the wedding, and tackling all of our existing work and volunteer responsibilities.
The biggest challenge for me, thus far, is feeling like I can't contribute to the degree that I would like.
You don't have to know me well to know that I'm a take charge kind of gal. I feel the most fulfilled when I lead a busy life – work travel, volunteer activities, exercise classes, wedding planning – I'm happiest when I have a lot to do and I can do it well. Like most people, I want to be the type of teammate (and first mate) who makes meaningful contributions. And while I can sew a straighter line, remember to fill our two water tanks on a weekly basis, and speak better (albeit still poor) Spanish than Philippe, I'm at a loss when it comes to troubleshooting and working on any of our boat's mechanical or electrical systems.
To his credit, Philippe is an extremely patient teacher and I have been learning a lot. In the last month, I have changed more fuses, traced more bilge pump wires, tested more alternators, and helped with more engine repairs than I have in my entire life, which is to say that I have done each of those things exactly one time. But hey, we all have to start somewhere, right? Needless to say, I have a long way to go and the steep learning curve can be frustrating and fatiguing.
I like to think that there will come a day when Philippe will pop his head out of the engine compartment and say, "Girlfriend, can you grab the test light, wire cutters, and some PVC shrink tube", and I won't have to cock my head and say "What does that last thing look like and where do I find it?".
Better yet, I will pop my head out of the engine and say, "Boyfriend, can you grab…".
April Projects & Progress
Philippe and a couple friends secured our emergency tiller in an accessible but tucked away spot next to the companionway.

Carolyn took the 8-hour "Marine Diesel Engines: Maintenance and Troubleshooting" seminar with marine engine guru Nigel Calder.
We got Yuki to pee on his astroturf square (This is still a very silly process, since he won't pee on it naturally. The scene looks something like this: Yuki lifts his leg to do his business, and I (wearing a single black rubber glove) sneak up behind him and try to coax a doormat-sized piece of astroturf between his legs to catch the stream. Yuki, looking utterly perplexed, finishes peeing, awkwardly hops over the astroturf, sniffs it, gives me a look, and starts walking away. I scoop up the astroturf (this is where that black glove comes in handy…) and transport it to a nearby bush to let it hang dry while we finish our walk. After our walk, I recover the urine-soaked astroturf and hold it an arms-length away from me (wouldn't want to drip on my shoes…) while we make our way back to the boat and occasionally wave at neighbors, shrug, and say "Still training Yuki to use the astroturf while we're offshore!")
We purchased a new set of foul weather gear for Carolyn, including jacket, bibs, and boots, and a new set of bibs for Philippe.
Philippe and Keith added gimbal latches to our stove. It's hard to believe that I lived on this boat for almost three years without gimbal latches. I still instinctively hold the stove in place each time I open the oven, and I had to break the habit of weighting the front of the stove with a kettle full of water while I tried to cook something on the back burner.
Carolyn and Philippe both completed the 8-hour online Safety at Sea course, followed by the 8-hour hands-on course, where we got to climb in a liferaft and jump in a pool to inflate our life vests, among other things.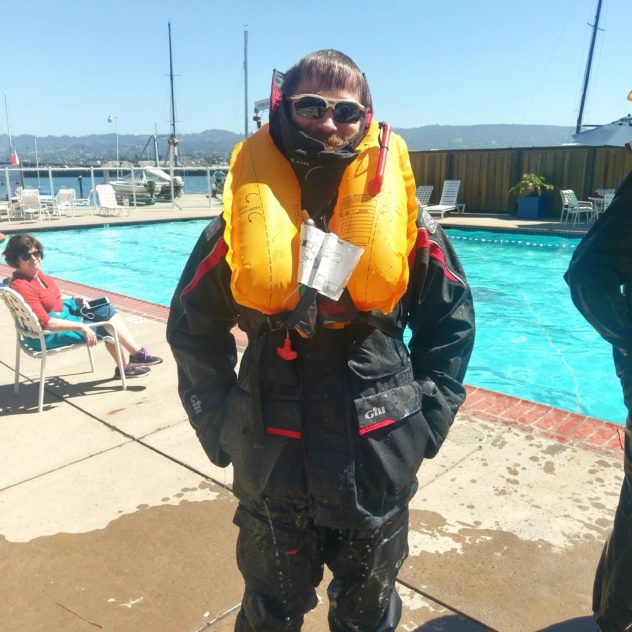 With the help of some friends, we removed all of our lifelines, detached them from the hardware, measured them, and requested quotes for inspection and replacement. We're waiting for hear back from a few riggers, but hope to complete the work in the next couple of weeks.

We spent an afternoon in the bilge doing a variety of tasks:

Gave it a good cleaning

Replaced 6 amp fuse with correctly sized 12 amp fuse for our main bilge pump

Replaced 15 amp fuse with correctly sized 7.5 amp fuse for our secondary bilge pump

Ordered a new screen for the base of the main bilge pump

Reattached a disconnected cable for our main bilge pump to allow it to work on its manual setting
Secured the secondary bilge pump float valve, which must have come free at some point in the past
Ran several tests on both bilge pumps to confirm that both manual and automatic settings are working as intended (which they are, thank goodness)

We got back our repaired Spectra watermaker and ordered a new membrane and pressure gauge.

Philippe borrowed our neighbor's Rocna 25 to try out on our boat. After determining that it fit, Philippe cut out a Rocna 33 template to test. That fit too, so it looks like our new anchor will be a Rocna 33!

Philippe chased and labeled some electrical wires.

We tested our batteries and alternator.

We sat down with a calendar and determined two potential times for haul out.
Philippe purchased a heat gun and propane torch to help with projects around the boat.
We ordered anchor road markers that will be delivered to Carolyn's hotel in the UK.
We purchased re-arming kits for all of our inshore and offshore life vests.
We practiced our Spanish.
We started studying for the HAM radio operator certification exam.
Carolyn determined that Yuki's vet is USDA-Accredited and can complete his pet import paperwork for Mexico.
Philippe greased the chart table and galley drawers so that they aren't so hard to open.

We ordered new flooded lead acid batteries (8 house bank and 1 starter), plus two watering systems.

We ordered a Garmin autopilot, wind and depth instruments, chart plotter, radar, and VIRB action camera.

We ordered a Viking RescYou 6-person offshore liferaft.

Philippe cleaned the engine and engine compartment.