Cowbells and Craft Beer in Chacala
Cowbells and Craft Beer in Chacala
My favorite thing about Chacala was the cowbell. Philippe and I had just exited Onda Brewing, a super cool craft brewery, when a man in nice clothes walked by ringing a cowbell. He smiled and greeted us, but just kept walking and ringing his bell. I peered around the corner, looking for the cows. "It must mean something," Philippe said. Moments later, the owner of Onda rushed outside with a big grin on her face. "Trash time! This is so exciting!" She was so genuinely enthusiastic about trash collection we couldn't help but feel some exhilaration ourselves. Thirty seconds later a large truck rumbled by. The process was everything you'd expect, with a nice Mexican man greeting her, accepting her two small bags of trash, and tossing them into the truck before climbing back aboard. Apparently, if people set their trash out too early, the street pups will tear it open. To mitigate all that mess, the well-dressed man walks around town with a cowbell to greet the neighbors and alert everyone to the coming trash collection truck. I love that the town is small enough that even trash collection feels personal.
The February 10 high tide meant an early morning departure for Untangled. We pulled out of our slip in San Blas around 4am and stuck to our traditional form: all three of us awake for the first hour or so, then quickly slipping into our routine of 2-on/4-off. Philippe took the first watch. With very little wind, the motor to Chacala was uneventful (map). We dropped our anchor around 10am, took a quick power nap, and launched the dinghy.
Our outboard engine had some issues right before leaving Isla Isabel, and although Philippe spent some time working on it in San Blas, he was unable to solve the issue. As a result, Philippe got in a good workout rowing us to shore.
The town of Chacala seems to exist solely to support the tourism industry that has sprung up on it's beautiful beach. The shores are lined with fancy homes and a resort or two, with the town tucked just inland. The beach has a few palapa restaurants, and lots of vendors selling cookies, donuts, fruit, tamales, and pies. We tried the orange coconut cookies, Charly's ice cream, and three pies: queso, fresa, and piña. I think Charly's ice cream was the best of the bunch, but I am pretty obsessed with ice cream, so I may not be the most impartial judge.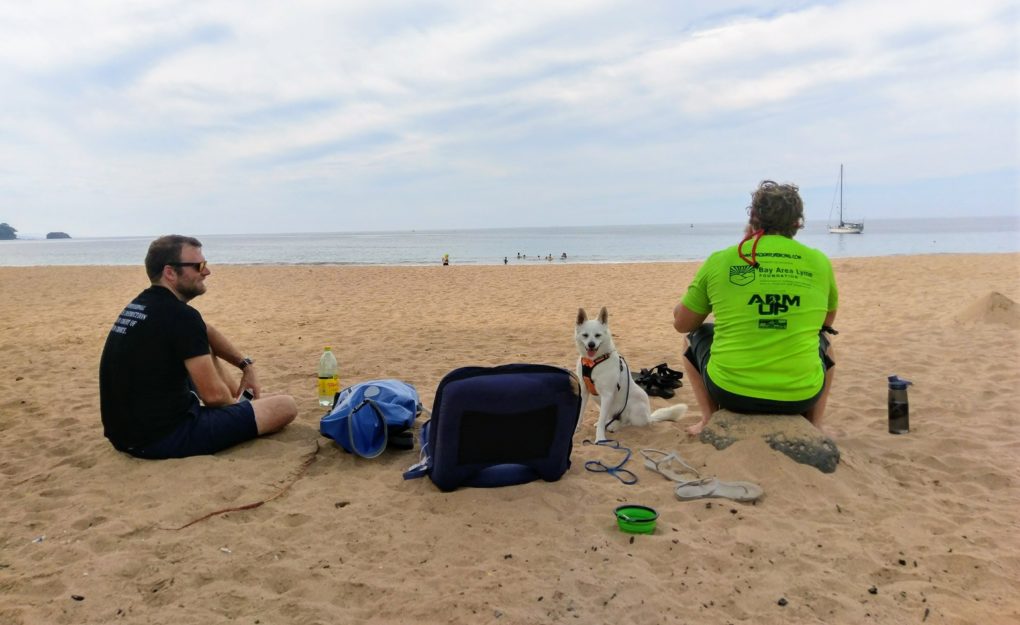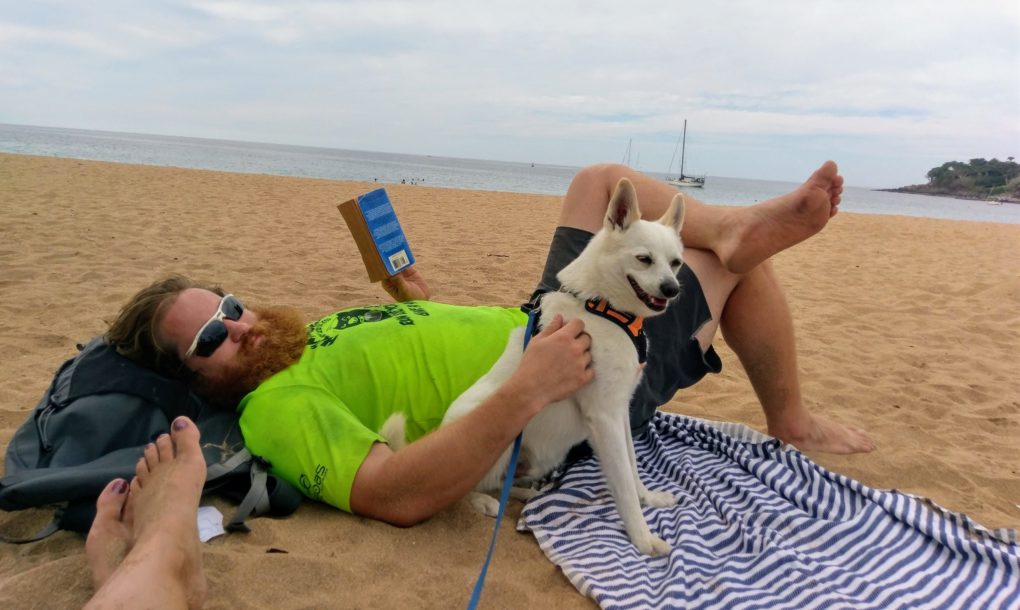 For the first time in our whole Mexico trip, the Untangled crew spent the morning lying on the beach. We found a nice shady spot under some palm trees and read our books for a few hours. Afterwards, we wandered through town. We happened upon Onda, a craft brewery that seemed particularly out of place in this small town. It was a super cool space owned and run by an even cooler couple. The owners had previously lived and owned a brewery in Juno, Alaska. They spent a decade vacationing in Chacala, and eventually decided to make the move permanently. The IPA was the best we've had in Mexico, and all the other beers were great also. We ordered dinner there as well, and I really enjoyed the pesto and orza stuffed tomatoes. As other expats filtered in and out, we learned that Chacala has a great school system. One woman told us it was a "Waldorf/Montessori-type school". Apparently, it has attracted this whole community of young families from the US – families who are interested in living a simplified lifestyle in paradise while still providing their kids with a quality education.
Keith decided to stick around to enjoy the live music at Onda, but Philippe and I rowed back to Untangled and went for a nice long swim in the bioluminescence. I don't really enjoy swimming, but it is really amazing to be able to jump off of my home and into warm, glowing water on these sticky Mexican nights.
The next day was yet another early departure. We lifted our anchor around 5am for the 47nm trip to La Cruz (map). It was still dark when we left, and I agreed to take the first watch. I was rewarded with a whale sighting against a shimmery sunrise. We had a fun surprise when we arrived in La Cruz and met our dock neighbors, Starshine. Pat and Melodie have been cruising since 2014. They noticed that we hailed from California, and commented that they were in Alameda before starting their trip. We mentioned that we lived in Marina Village Yacht Harbor. They said that they had also lived in Marina Village Yacht Harbor. We said we were in Gate 11. They had also been in Gate 11. We asked when they left, and realized that we must have just missed each other, since they departed about a month before we arrived. Pat said, "We had just bought a new set of nice plastic dock steps, but we had to leave them behind. We gave them to our neighbors on Laurel Ann". When Philippe and I arrived at our slip in Marina Village, our new neighbors on Laurel Ann had two sets of dock steps, and we "borrowed" one of them (…for 3 years). Ha! So here we are in Mexico, pulling into a randomly assigned slip in La Cruz only to learn that our immediate neighbor is the same boat that vacated our exact slip in Marina Village. We have them (and Laurel Ann) to thank for both our liveaboard slip and our dock steps. Ken & Muriel, if you're reading this, Pat and Melodie say hello!