A Snuggle-Free, Flailing-Sail Adventure
A Snuggle-Free, Flailing-Sail Adventure
Since Puerto Vallarta, we've enjoyed our first two passages without crew. The first, from Puerto Vallarta to Barra de Navidad, was about 130 nm (map). We had great wind and were able to sail the entire time. We've done so much motoring in Mexico, I'd almost forgotten how calming the sound of sailing is. We rotated our watches on a 3-hour schedule, and since the sail took us a little under 24-hours, we only had a single night at sea. Early in the sail, the clew (the corner f the sail where the lines are attached) blew right out of our jib, sending it flailing off the bow of the boat. Luckily, it was still daylight. Philippe was able to wrestle the jib onto the boat and tuck it down below. Even with the main alone, we were often able to keep up 7-9 knots. The seas were a bit lumpy, so it was another passage with little food consumption.
We reached Barra de Navidad, which is attached to the Isla Grande Resort, around 8am on Sunday. We were quickly rewarded for our lack of calorie consumption during the passage, as we were approached right away by the French Baker. It's his last season (a Swedish man will be taking over the post), so we were lucky to catch him. He brings his boat right up alongside yours, and you can purchase pies, quiches, breads, and pastries. Everything was delicious, but there was one pie (chocolate, mango, and ginger) that was out of this world.
My time in Barra de Navidad was limited. I flew out Monday evening for a work trip to Hawaii, and didn't return again until late Friday afternoon. Philippe spent his week working on boat projects. He got our jib repaired, started reassembling our wind generator, attached the propane back to our water system (a victory for me, since we'll no longer have to boil water to do dishes or take cold showers), and did some work on the batteries and alternator. The marina is on the other side of the channel from town, but an inexpensive water taxi takes you to the opposite shore, which is bustling with little restaurants, souvenir shops, and hotels.
Within an hour and a half of me reaching Untangled on Friday, we were back on the water. It was another no-wind weekend, but at least the seas were glassy and neither of us suffered from seasickness. We'd been apart for five days, so we spent our first couple hours chatting in the cockpit, but then settled into our 3-on/3-off watch routine. I had taken a redeye from Hilo to Los Angeles the night before and had only gotten a few hours of fitful sleep on the airplane, so Philippe kindly took the first watch while I got some rest. We joked that it was a cruel punishment to be reunited after my work trip, only to spend our weekend trading watches and sacrificing snuggles.
The highlight of our sail came the next morning, right after sunrise. We were both awake, and Philippe thought he spotted something in the water. We diligently got out the binoculars to ensure it wasn't a crab pot buoy or some other marker. It wasn't, but we passed it by sans identification. A few minutes later, we saw a second brown lump bobbing on the surface of the water. We were a little closer to this one, and the binoculars revealed a large, brown shell drifting slowly by – a sea turtle! We got to see several more turtles sunning their shells in the early morning light. It's fun to see them because we know what they are, but in all honesty, they just look like rocks at the surface of the sea. In only one instance did the turtle stick its fins and face high out of the water.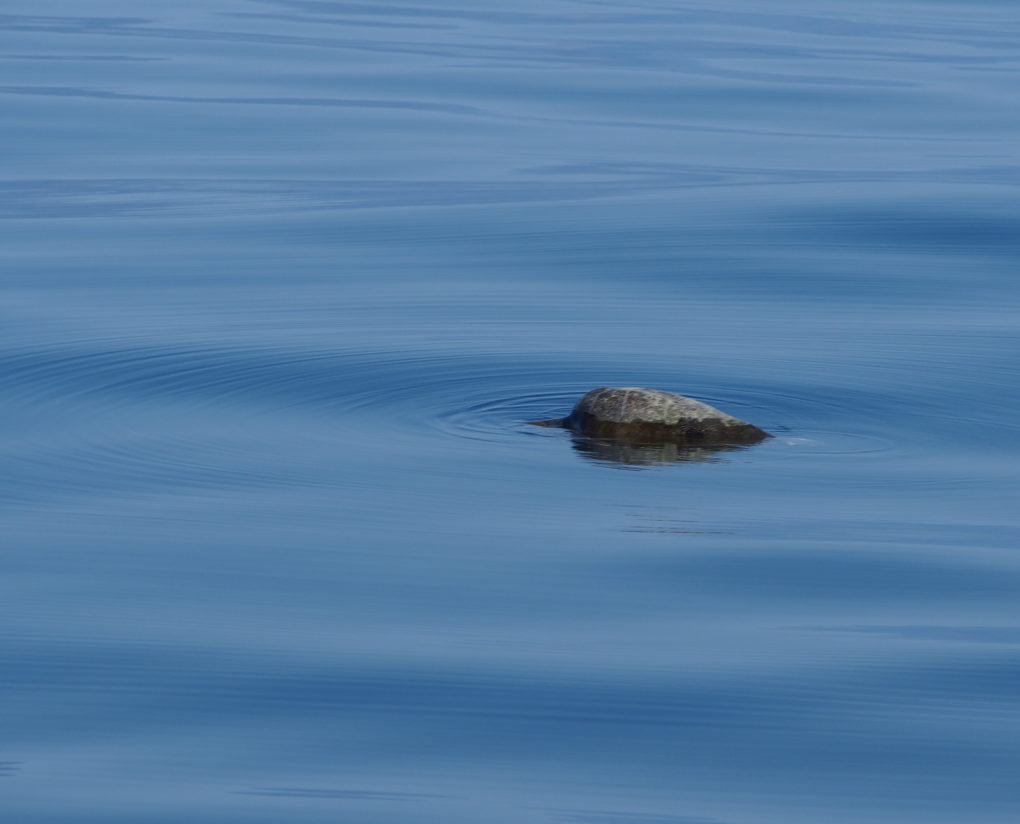 We never did get enough wind to raise the sails, and with our motoring speed at about 7 knots we were poised to reach the anchorage at Zihuatanejo in the dark. Instead, we opened our guide book and decided to stop at Cardonal de Campos for the day. We arrived in the early afternoon. We were in the process of dropping the anchor when two boys paddled their kayak over. Philippe shooed them away from the sinking anchor rode, but they weren't deterred.
"Throw us a line!", they yelled to Philippe in Spanish.
"How do you feel about making some new friends?" Philippe asked me via walkie talkie before tossing them our port bowline.
Philippe went down to turn off the engine, and I started toward the bow to say hello. I hadn't made it very far before I saw a tiny hand pop up over the edge, gripping the toe rail. Next came a heel hook, the pale underbelly of his arches splayed towards the sky. I got there in time to offer him a hand as the struggled to figure out what to do next, since the lifelines prevented him from simply hurling his body onto the deck, which I can only assume was his plan. Instead, his hand in mine, he navigated his way in between the two wire lifelines. His partner followed suit.
Philippe brought them some juice, which they drank in a matter of seconds. They were cousins, both ten years old. They wandered around deck and told us about their big family. They spoke no English, so we were thankful for our limited Spanish. I asked if they always boarded the sailboats that anchored in the bay. "No," they said, "This is only our second time".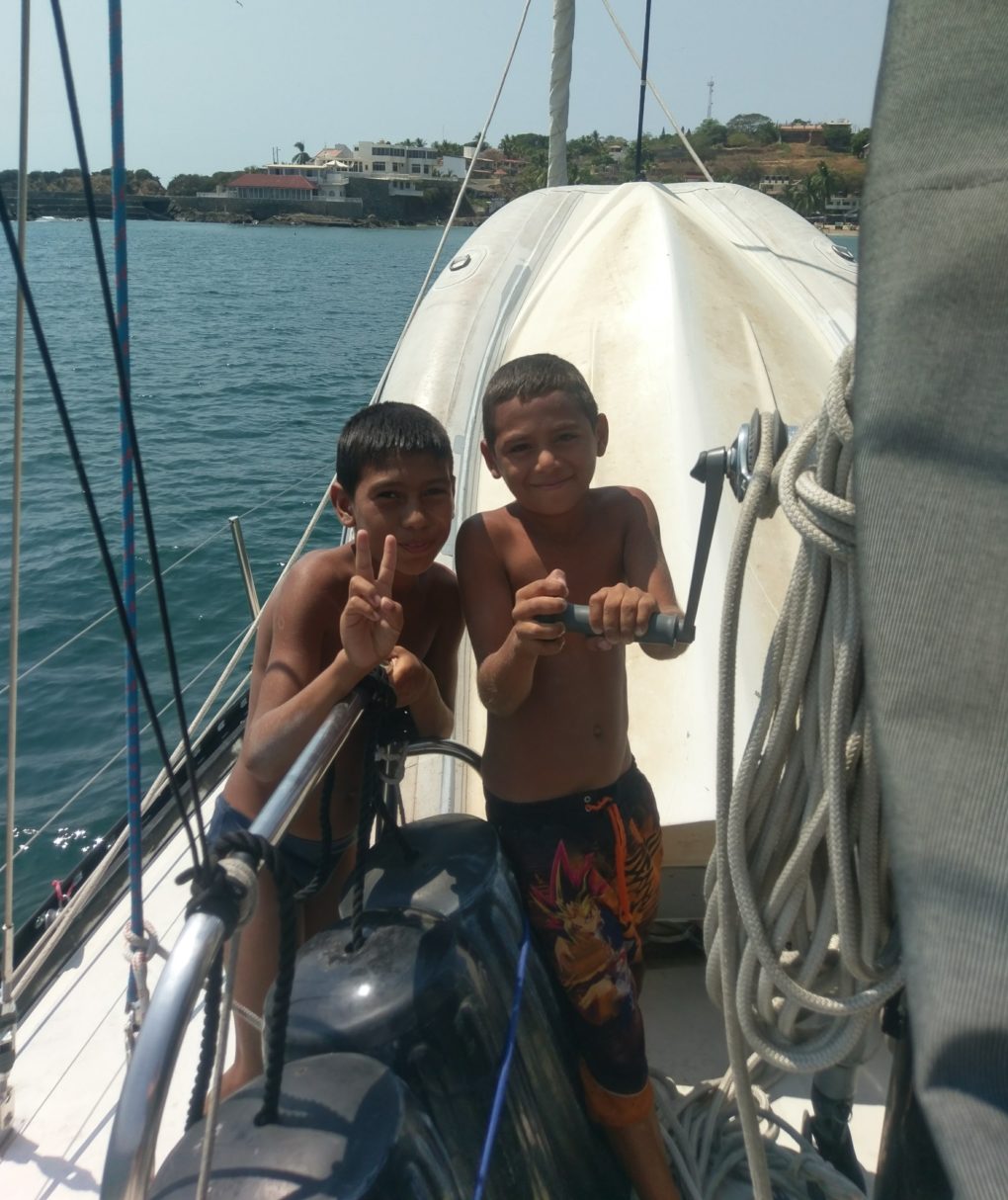 We filled a big plastic bag with coloring books and crayons to take to their friends on the beach. They were excited to use the winches and help us launch our dinghy. One of them opted to accompany us to shore in our dinghy, while the other paddled the kayak back.
We enjoyed icy beverages at a shoreline palapa and a nice long walk on the beach before retiring to Untangled for an early bedtime. We rose around 2am for our motor to Zihuatanejo, which we reached in the early afternoon (map). The plan was to post up in Zihua for a few weeks and welcome some friends to town, so it was great to settle in.